THIS WEBSITE, THE BRIGHTON BRANCH OF A.S.L.E.&F.
HAS NOW BEEN MOVED TO A NEW SITE CALLED

IGNITING THE FLAMING OF UNITY


http://ignitingtheflameofunity.yolasite.com/1960.php

PLEASE CLICK ON THE IMAGE BELOW TO TRANSFER TO THIS NEW SITE
CLICK ON THE ABOVE IMAGE TO TAKE YOU
TO THE NEW UPDATED COMBINED AND WEBSITE
IGNITING THE FLAME OF UNITY WEBSITE
THIS WEBSITE COMBINES THE FOLLOWING WEBSITES
THE BRIGHTON A.S.L.E.&F., THE BRIGHTON MOTIVE POWER DEPOTS
& THE SUSSEX MOTIVE POWER WEBSITES
WHICH EXPLAINS THE EVOLUTION OF THE FOOTPLATE GRADES AND THE HISTORY OF THEIR TRADE UNIONS AND THE STRUGGLES TO IMPROVE THEIR WORKING LIVES
No. 1 BRANCH SECRETARIES
Peter Bradford 1960 - 1966
(Footplate Seniority 08.11.1948)
& Alan Hardiman 1967 - 1969
(Footplate Seniority 08.12.1947)
No. 2 BRANCH SECRETARY
Phil Plaine 1965 - 1972
(Footplate Seniority 11.10.1943)
TRANSFORMATION FROM
STEAM TO DIESELISATION
ASLEF School c1960
Peter Bradford Brighton No.1 Branch Delegate (Branch Secretary) standing 2nd row, 5th from the left
Albert Routledge, Brighton No.2 Branch Delegate is on the bottom row far right
Alan Bartlett Collection
Ernest Reeves, was known as Bert
Driver George Washington and Fireman Reg Eason
Driver George Washington and Fireman Reg Eason

George Washington's seniority date 12.12.1911 and retired 22.04.1960

BUFFER STOP COLLISION AT KEMP TOWN

8th JANUARY 1963
INVOLVING JOHN WOOD AND HIS FIREMAN JOHN MYLES
PHOTOGRAPHER UNKNOWN

The scene at Kemp Town Good station on Tuesday 8th January 1963, when the 08:00 Brighton (Top Yard) come out of Kemp
Town tunnel and the wheels of the "E" class 0-6-0T No. 32468 started slipping on the icy rails. The engine finally come to
stand on the station concourse. The train was worked by Brighton driver John Wood and his fireman John Myles.
As reported in The Evening Argus on the same day.

A 50 ton shunting engine
ploughed into Kemp Town
Goods Station demolishing
buffers, part of the platform and
the station office today. The
engine, pulling loaded trucks
weighing another 120 tons,
skidded on ice covered lines as it
approached the station.
The driver John Wood and his
fireman John Myles, were taken
to the Royal Sussex County
Hospital for a check-up. The
firemen were called to put out
the engine's fire and reduce
steam pressure in case of an
explosion. Later they cleared the
wreckage.
PHOTOGRAPHER UNKNOWN
The railwaymen featured in this photo are not known
Two station staff had quickly escaped. Mr Albert Streeter, of St Peter's Street, Brighton, and Mr. William Speed, of Donald
Hall Road, Brighton, left the office about two minutes before the crash. "I must have had a premonition or something" said
Mr. Streeter. "We are normally in thje office at that time, but this morning we decided to go and check over some goods
trucks."
Lorry driver Maurice Cole, of Lansdown Place, Hove, who was loading brick at the station, said: "I saw the wheels skidding
and knew there had to be a crash. It cut into thr station like a bacon slicer. The noise was like a bomb going off."
* There is no Minstry of Transport report into this accident
LOCOMOTIVE JOURNAL
NOVEMBER 1963
AS THE PASSENGER SEES IT
BY E.S. WATERHOUSE
A LINE IN SUSSEX
With the remorselessness of Judge Jeffrey's "Bloody Assize" the branch lines are being marked down and it is sad to hear that
the Horsham - Brighton branch is among them. it runs through the heart of West Sussex, through meadows and the Downs,
and the Downs, to join the Brighton - Portsmouth line
by the river at Shoreham, where, as at Brighton it
connects with the whole South Coast and at Horsham
with Waterloo, London Bridge and Victoria. There are
17 trains each way on week-days and 11 on Sundays.
most trains make 11stops and the timing is just about
an hour. This does not sound like a direct line which is
past revival. For 102 years it has served a useful
purpose. When I first knew it, the little L.B. & S.C.tanks
of the D1 type did much of the work, and later the 0-6-2
class E4. After the Southern Railway came into being
the Drummond M7 type took over and were seen till the
last few years, when the B.R. "80" type came, Tank
engines have been predominant on the line from the
beginning. I was travelling on this line lately and food
that a number of ex-L.M.S. 2-6-2 type tanks of Ivan's
design of 1946 were at work there. They have 5ft. 7
drivers, 161/2 by 24 cylinders, 200lb. steam pressure,
taper boilers, Walschaerts gear and P.V., with T.E. of
18,510lb. and seem well liked. The trains are light,
three bogies, and keep excellent time. Two of our
Horsham members, Bros. Hills and Tanner worked my
train to Shoreham with 41312, and two of our Brighton
members, Bros. Colley and Pannett, brought me back
with 41327. In all my travels this years this is only the
second time when I have been steam-hauled, more's
the pity! To close lines without proper and equally
convenient other transport is to treat railways like
multiple stores - pay or close. Instead of trowing
passengers and freight on to roads which, the experts
forecast, will be trying to carry 13 million vehicles by
1970, sanity surely calls for the Labour Party's
proposal to consider road and rail policy together. The
Tories, the Big Businessmen's party, might ask
themselves which is worse, the deficit lost on the
national necessity of railway transport or millions gone
down the drain in "deterrents" that won't function and
are quietly scrapped like Blue Streak. But, as John
Bright said once, "The Tories are always a stupid party"
PHOTOGRAPHER UNKNOWN

Driver Hills & Fireman Tanner
JOE PANNETT COLLECTION
Driver Vic Fewtrell & Fireman Joe Pannett
- adding that he did not say that as a matter of controversy but as plain fact! Good luck to the opposition than is being
organised and may this little Sussex line be spared.
are quietly scrapped like Blue Streak. But, as John Bright said once, "The Tories are always a stupid party" - adding that he

did not say that as a matter of controversy but as plain fact! Good luck to the opposition than is being organised and may this
little Sussex line be spared.
FROM STEAM TO DIESEL
With the Nationalisation of the railways in 1948, the need to modernise the railways was to become very apparent. With
introduction of the "Modernisation Plans" of 1956, this was to see the beginning of the phasing out of steam locomotives, and
replacing them with new forms of motive power traction, electric and diesel, locomotives and multiple units.
The main diesel locomotive to be introduced on the Southern Region, was to a Type 3 locomotive (later Class 33), even though
it was not originally part of the "Modernisation Plan". The original plan was to order more English Electric Co-Co type 3s
(later Class 37s) already in production for the Southern Region but the Co-Co wheel arrangement was deemed to heavy for
the permanent way. Over the next ten years steam locomotives were slowly to be replaced by them on the Central Division.
Between 1957 and 1960, four orders were to be placed for the new Type 3 diesel locomotives, with a total of 98 locomotives
being built for the Southern Region. This also included 12 narrowed bodied locomotives for the Hastings to Tonbridge line.
On July 17th, 1960, the following locomotives D6506,
E5004 & 20001 were on trial Three Bridges and Haywards
Heath station, with several test runs at various speeds were
being made between these locations, and later in March
1961, Type 3 locomotives were being used to test the bridges
between Lewes - Barcombe Mills, this was done in
conjunction with a West Country Pacific.
In August 1962, saw the Type 3 locomotives, continuing to
expand across the Central Division, which included various
freight workings, empty coach stock workings between New
Cross Gate and London Bridge, assorted engineering
workings, and an early morning diagram between London
Bridge & Brighton. They were also visitors to Brighton &
Eastbourne on summer passenger workings.
By the end of July, 1963, the Central Division had nineteen
Type 3 locomotives available, and a large number Diesel
Electric Multiples Units, this had a great impact on the
remaining steam duties within the Central Division. This
diesel regularly working over the Oxted lines, and Type 3
locomotives taking over the Saturday workings of the
9.40am Brighton - Bournemouth & 1.45pm return. The
weekday workings continued to be in the hands of the West
Country Pacifics. By the end of the summer timetable saw
Brighton losing the duties for its Pacific's class locomotives,
and they were transferred away to other sheds.
PHOTOGRAPHER UNKNOWN

Driver Ernie Skinner & Fireman Ian Muro
Ernie was a L.D.C.Rep. for Brighton loco in the late 1950s
early 1960s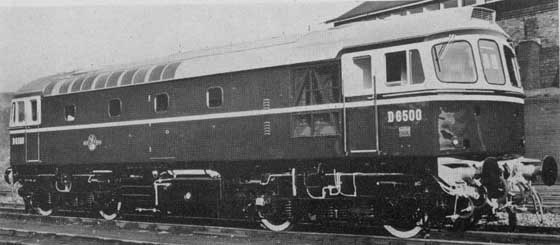 PHOTOGRAPHER UNKNOWN

Southern Region BRCW TYPE 3 Locomotive (Class 33)
In August 1968 with the withdrawal of steam a new classification for diesel & electric locomotives
was introduced with the B.R.C.W. Type 3's becoming the Class 33's.
With the implementation of the Beeching Report routes in Sussex were closed reducing the amount of steam workings at
Brighton, Bognor, Horsham, Three Bridges, Eastbourne and Tunbridge Wells West Depots. Bognor steam shed closed in November1961 its work transferred to Brighton. Newhaven and Tunbridge Wells West steam sheds closed on September 9th
1963, however the remaining work at Tunbridge Wells West Depot was replaced by diesels electric multiple units
(D.E.M.U.s).
Bognor steam shed closed on 8th Novemeber1962, Horsham steam shed closed on 12th June 1964. Three Bridges shed closed to steam on 27th January 1964, and it became a mixed traction depot until April 1969 when the mixed traction Depot closed and the work transferred to Redhill. Brighton closed to steam on 13th June 1964 and finally Eastbourne steam shed closed on13th June 1965, and it became a mixed traction depot until April 1969 when the mixed traction Depot closed. Eastbourne was the last Steam Shed on the Central Division.
BARRY BROWN COLLECTION
BRIGHTON TOP YARD c1963, FEATURING A DREWRY SHUNTING LOCO (CLASS 03) AND A TERRIER TANK,
WITH DRIVER TOMMY DUNK
This resulted in many Drivers and Firemen being made
redundant at their Depots and subsequently having to move to
other Depots to stay in employment. From the late 1950s
onwards it was not uncommon especially in rural areas of the
Country for Drivers and Firemen with between 30 and 40
years service having to leave British Railway rather than move
their Family's hundreds of miles to keep their jobs.
Whilst many factors contributed to these events, no doubt the
presence of diesel locomotives and multiple units available for
traffic were a contributing factor. This was seen in January
1964, when a revision of the services on the Oxted line, led to
a major overall reduction in passenger train mileage, and the
elimination of the remaining Uckfield line steam workings, and
the continued use of the diesel locomotive and multiple units
on some of these services.
On January 12th, 1964, the Sunday only Brighton -
Bournemouth became diesel hauled, using coaching stock
from the Oxted line. For the summer season of 1964 a relief
Brighton - Cardiff operated using a Type 3 between Brighton
& Salisbury. This class of locomotives were also utilised on
the Brighton - Plymouth. The weekday service used an electric
locomotive as far as Chichester; and on occasion a Type 3
would substitute. Following the end of the summer timetable,
the Brighton - Plymouth service would be the only long
distance service from Brighton of those that once ran to places
such as Bournemouth and Cardiff. The Plymouth service was
hauled by Type 3's during the summer.
The changeover from Steam to Diesel Traction and subsequent
drop in the requirement of Drivers and Firemen on the whole
of British Railway became the issue of a Industrial Court of
Inquiry in September 1965. On 26th December, 1964, the total
number of Drivers, Firemen and Cleaners on British Railways
was 53,359. but by the 19th June, 1965, the total was 50,472;
a reduction of 2,887 or 5.4 per cent in six months, and since
July 1963 the number of Drivers has been reduced from
34,163 to 30,601; a reduction of 3,562; in the same period the
establishment of Firemen and Cleaners has decreased from
28,744 to 19,299, a reduction of 9,445
The reason for this Inquiry was British Railways intention to
implement Single Manning and to do away with the Second
Man on Diesel Locomotives (This was introduced to replace
the grade of Fireman) British Railways intention was also to
alter P.N.B and driving arrangements for Drivers. This would
have had another massive reduction in the number of Drivers
and Secondmen required.
A.S.L.E&.F gave evidence to the Court if Inquiry and this
centred round the argument that "two sets of eyes are better
than one" on whatever type of Locomotive and that the grade
of Secondman was essential to help the Driver and to give
valuable experience towards becoming a Driver themselves.
Also the proposed Manning Arrangements would put undue
strain on the remaining Drivers.
The outcome of the Inquiry was that a number of the changes British Railways required were accepted but Single Manning of
Locomotives was rejected also British Railways gave a full assurance not only that no footplate staff surplus to requirements
as a result of the revised Agreement would be made redundant but that none would be moved from his present depot against
his wishes. If footplate staff wished to move to another depot (e.g. to improve prospects of promotion to driver), they would
benefit from the provisions of current redundancy arrangements. In addition, to encourage retirement of drivers so as to
provide openings for firemen, drivers over 60 years of age at depots where firemen were surplus to requirements in
consequence of single-manning would be allowed to retire under the redundancy procedure. Over·11,000 drivers were due to
retire in the normal way over the next five years and this would make it comparatively easy to absorb surplus footplatemen.
A.S.L.E. & F. were satisfied with these arrangements, although they pointed out that closure of depots would cause some
added hardship to footplatemen as they would either have to move their homes or travel long distances.
"The Board also gave assurances that the earnings of footplate staff affected by the revised Agreement would be
safeguarded."
This gave rise to the position of "Starred Men" where Secondmen could remain at their own Depot until promoted to the
position of Driver without the loss of earnings. This situation remained in place at certain Depots for the next 20 years. At
Brighton Mixed Traction depot the last 'Starred Man' Ralph Stobbart got his promotion in 1987
Steam working on the Central Division would continue to dwindle with the final workings and steam sheds closing in 1964
Eastbourne being the final steam shed to close .Although the final workings rostered for Steam Traction lasted until March
1967.These were the through Brighton –Plymouth service(because the coaching stock used required steam heating which the
33s could not provide) and the Waterloo-Bognor Regis Newspaper train (detached at Havant) although the Engines and Crew
for these workings came from Fratton Shed on the South Western Division.

During the summer of 1967, the Central and South Eastern Division Diesel locomotive diagrams were merged. This allowed
the St Leonard's allocated Hastings gauge Type 3's to wander further on a regular basis than previously, now handling
passenger workings from London to Brighton, East Grinstead, Crowborough, and on the Brighton Exeter through working.
DAVID GILLIAM COLLECTION
DENNIS GILLIAM
Locomotive Journal
October 2014
Adapted from an article
by Bill Davies
The Manning Arrangements become applicable from Monday 25 October, 1965, this incredible agreement came into place
awarding a 'star' to all who had started before this date, which not only ensured future employment, but protected their
earnings as well. historically, it was one of the finest agreements ever signed by A.S.L.E.F. to protect members in the line of
promotion.
In essence, firemen would no longer be required on the new traction, then replacing steam, although it was not until August
1968 that this form of traction was finally phased out, with one notable exception, in the Vale of Rheidol.

(On Wednesday 11th August, 1968, the Fifteen Guinea Special was the last British Rail steam train to run between Liverpool,
Manchester and Carlisle.)
The agreement that was reached provided arrangements for the displaced fireman to accompany his driver on his rostered
turn or, if he was required for other duties, to receive payment for that turn, whichever was the greater. At some depots firemen
who were disadvantaged financially by being removed from their turn were then covered in the form of a ghost link which
identified what their turn of duty would have been, with the appropriate payment.
GOLDEN HANDSHAKE
At that time firemen, now regraded as second men, were still required on many passenger turns to operate the steam heating
boiler which began to be replaced by Electric Train Heating in the early 1970s, although the Southern Region had Electric
Train Heating locos well before that date. Further duties included double manning on night turns and when a driver could
not be shown a Physical Needs Break on his diagram.
To help alleviate the problem, by assisting promotion, the golden handshake was introduced at many depots. Men who had
started their career during the First World War and had nearly reached retirement were only too pleased to receive an
additional lump sum to go a little early.
Against this, of course, was the contraction of our railway system brought about by the Beeching report which not only closed
lines but closed depots as well. Again, Promotion Transfer & Redundancy arrangements in place ensured that it was possible
to retain a job on the footplate, very often within your own area, although in remote outposts this was not always possible.
Amazingly, the second man brought his previous protected earnings with him or, if the new depot paid more, then they got
that; the best of both worlds! in rare cases they fared better than the drivers with whom they transferred...
SELLING YOUR STAR
Once management got tired of the payments being made to 'starred' men they offered initially £250, later increased to £320,
as an inducement for them not only to leave the industry with a premium payment but, if you wanted to stay, you could take the
chance of selling your 'star', thus losing your entitlement to the manning agreement.
At depots such as King's Cross, during the early 1970s, a star was essential to maintain high mileage payments on Electric
Train Heating diagrams. Even so, enough boiler work was still in operation to ensure that even non-starred men still got out
on the main and so earned their payment.
What would have happened if this agreement had not been signed? Well, obviously, many experienced firemen who had many
years of footplate work would have been made redundant and left the industry, starving the railway industry of future drivers.
Would drivers receive extra payment for single manning? Looking back, the offers were derisory, just as the initial offers for
Driver Only Operation were.
Without this historic agreement, which took protection of employees to a new level, many drivers would never have had the
opportunity to have remained in the industry. A.S.L.E.F. was to the fore in protecting its members in the face of adversity – as
A.S.L.E.F. always has and A.S.L.E.F always will.
BRIGHTON LOCO DRIVERS
Clifford Highams, Bert South & Trevor Fielding.
The two separate Brighton Branches worked side by side with
all Drivers and Secondmen working from the same location
after 1964 upon the closure of Brighton Steam Shed. The
separate grades of Engineman and Motorman having being
abolished in 1961.
Promotion within the loco department has always been on
strict seniority with the date of entry as a cleaner being the
deciding factor. At Brighton promotion was very slow as it was
very rare for men to leave the Footplate except for medical
reasons. It was not uncommon for the senior Firemen to be in
their late 40s and still not having reached the position of
Engineman. As stated earlier this was made worse for
Brighton Firemen & Cleaners during the late 1950's onwards
when Enginemen and Firemen from the South Western Section
(former L.S.W.R.) of the Southern Region were being forced to
move around the Region looking for vacancies at depots within
the Southern Region due to the even slower rate of promotion
in that part of the country and also the start of the Railway
cuts. Many footplate men having to find themselves relocating
their homes and families across the Southern Region (from as
far away as Exmouth Junction. Barnstaple, Exeter, Yeovil,
Templecombe, Dorchester, Bournemouth, Salisbury and
Eastleigh). Many of these Footplate men moved to Brighton
Locomotive depot where they remained for the rest of their
careers. This held back many of the local Brighton Firemen
and Engine Cleaners in gaining their promotion because the
Footplate men transferring in had higher seniority dates. This
forced some to seek their promotion to Enginemen and
Motormen within the London area. Those Footplate men that
transferred to the London area had many years of waiting
before their seniority allowed them to transfer back to
Brighton. Many of these former Brighton Footplate Men
decided to stay at their new locations.
These maps enables you to see the full extent of the
area that the Southern Railway operated over prior
to nationalisation of the railways in 1948. Under the
Southern Region control, some these lines were
transferred to the Great Western Region control.
The maps also shows, how far many of the engine-
men moved from, during the "Beeching
Modernisation Plan" being implemented, during the
early 1960s. Many of these men ended up in the
Brighton and surrounding area.
PHOTOGRAPHER UNKNOWN

D6536 standing in Brighton Loco Works
NOVEMBER 1964
DISTRICT ORGANISER'S REPORT
PAGE 220
Sad new at Brighton where our good colleague Harry Neal received fatal injury in the Collision at Lover's Walk depot. Harry
was a member of the Branch Committee and L.D.C.; he was well liked by all who knew him, Members of Brighton (2) Branch
and, indeed, all members along the South East Coast, will miss him. At the recent M.O.T. Inquiry the Society was represented
and the Ministry Report is awaited. Out Compensation Department is currently dealing with case and were rendering all
assistance possible to our late member's dependants, to whom we all express our sincere condolences.
BRIGHTON ON LOAN
During this time, Brighton loco depot, become known as a 'on loan' depot with many of the junior loco-men going 'on loan' to
loco depots throughout the Central division: - Fratton, Bognor, Tunbridge Wells & Redhill, as well as the London depots such
as Norwood, Stewarts Lane and on some very rare occasions 'on loan' at Nine Elms.
The junior cleaners who were passed for firing, or the junior firemen who were passed for driving, where often booked out 'on
loan' to foreign depots during this time (and for many years that followed) to carry out higher grade footplate work. This was
the only way they could achieve the 294 turns (this figure used to be 313) in the grade to enable them to go to the next band of
pay for their grade (there was a number of different rates for fireman and drivers rates of pay). Those who went 'on loan'
would still book on and off at Brighton Loco depot and would then travel to and from the foreign depot, where they would
spend the day or night carrying out the higher grade duty. This quite often meant working on the shed, preparing and
disposing of steam locomotives or working in the various yards on the shunting locomotives, shunting the wagons and re-
marshalling them into formation for their later departure.
The junior passed cleaners and firemen would not often be promoted at their home depot, owing to the work not being
available for them. This was due to a large number of redundant and senior loco-men transferring into the depot and the
phasing out of steam locomotives as a result of the introduction of diesel locomotives that replaced them.
LOCOMOTIVE JOURNAL
JANUARY 1965
PAGE 15
EXTRACTED FROM DISTRICT ORGANISER BRO. D.K. PULLEN'S REPORT
Brighton (2) Branch can always be relied upon to stage a lively meeting if the Organiser or E.C. Member happens to look in.
No bones broken at the November meeting, though this was not the fault of certain members present. George Webb was well to
the fore, as usual, ably assisted by his younger disciples at the back. I always enjoy a meeting at Brighton, though I can'y
think why for the moment.
PHOTOGRAPHER UNKNOWN

ROY SWEETMAN
LOCOMOTIVE JOURNAL
MAY 1968
BRIGHTON (1)
Bro. W. Terrill was involved in an accident when a crane lifting a container toppled over and our member sustained severe
head injuries. Notwithstanding very difficult circumstance in this case A.G.S. Ray Buckton, against strong opposition,
succeeded in obtaining a most favourable settlement. Bro. Buckton again won a case for Bro. J. Gray who unfortunately lost a
leg in a motor-cycle accident. Here again the circumstances were adverse but in negotiating with the insurance company Bro.
Buckton successfully concluded a very substantial settlement on behalf of our member. Mr. Buckton must have put in a lot of
time and effort on these two cases and we wish to publicise the good work that he has done. Thank you. Brother!
Bro. Don Pullen has shown his skill and resourcefulness in a very tricky discipline case involving a Brighton Driver, arising
from a complete brake failure on a Crompton loco. No accident occurred, fortunately. The Driver was found guilty of
negligence and not having his train under control. Bro. Pullen in the period intervening before the appeal made stringent
investigations collected enough evidence in our member's favour to have the charge dropped and our member cleared.
It is of the utmost importance to report all defects; only when they have been reported can they be used in supporting
evidence. Thank you, Bro. Don!
A.M. Hardiman,
Branch Secretary
THE WITHERED ARM OF SUSSEX
Extracted and adapted from the
Brighton Main Line Website
On 23rd February 1969, British Rail closed a 9-mile section of its second main line between London and Brighton to enable a
new road to be built across it. This seemingly innocuous decision was an action BR came to bitterly regret, whilst all subsequent
attempts to reopen the route in the ensuing decades have failed. For Sussex, Kent and Surrey it has proven to be a disaster,
whilst the economic, social and environmental consequences are still being suffered today.
It wasn't meant to be like this as, only a decade earlier, plans to modernise and electrify this important route were announced in
the spring of 1957 at a Special Press Conference in Brighton by the General Manager of British Railways Southern Region. The
Sussex Express reported 'New Electrification Schemes to Benefit Sussex Areas: After the completion of their first priority – the
Kent Coast electrification scheme – due in 1961, British Railways intend to electrify the Oxted Line to give a regular service of
through trains between London, Tunbridge Wells West, East Grinstead and Brighton via Uckfield.'
At a meeting of local councils in September 1958 BR's Traffic Superintendent announced work on modernisation had already
started, whilst electrification would commence in 1962. He spoke of the sharp increase in passenger traffic since the
introduction of new interval train services offering greater frequency.
So why was this major electrification scheme halted and why were profitable routes with such a bright future closed?
Unfortunately in 1959 Ernest Marples was appointed Transport Minister, a politician who fervently favoured roads and
eventually became notorious for his pecuniary interest in building them. The timing could not have been worse because Marples
was sympathetic to the 'Lewes Inner Relief Road' and approved an incredibly controversial plan promoted by East Sussex
County Council to build a dual carriageway through Lewes town centre. This £350,000 scheme was allotted a Government
grant of 75% making it irresistible to ESCC. However, Lewes Town Council, the Friends of Lewes and the townsfolk mounted
a tremendous fight against the proposal and its devastating swathe through the historic County Town of East Sussex.
Tragically the Uckfield line stood directly in the path of the road's first phase; however, British Railways had no plans to close
the line as it was scheduled for electrification and development. The County Council opposed bridging the line, apparently on
grounds of 'design and amenity' so British Rail sought a compromise, securing an Act of Parliament during 1965 to re-open an
alternative route into Lewes along the original Hamsey spur. This would enable that portion of railway line in conflict with the
new road scheme to be closed.
The downside was that southbound trains entering Lewes from London and from Tonbridge would face towards Eastbourne
instead of Brighton as before, but at least this would retain the very important London – South Coast link.
Train services would recommence by the summer of 1967 over the new Hamsey link which would cost £95,000 to reconstruct;
however, BR's application for funding to the recently-elected Labour Government was refused.
With its primary function at risk, BR saw no future for a line terminating in the middle of East Sussex at Uckfield and retaliated
by applying to close all the lines being made ready for electrification; including stations at Barcombe Mills, Isfield, Uckfield,
Buxted, Crowborough, Eridge, Ashurst, Cowden, Hever, Edenbridge Town, Groombridge, and Tunbridge Wells West. Protests
were widespread with residents from towns and villages converging on Tunbridge Wells to demonstrate.
The battle to save the route involved not only MPs, but also the House of Lords who warned of the utter folly because of the
Brighton Line's notorious vulnerability. Relying on just one very heavily-loaded line between London and Brighton would be
ill-advised. Transport Minister Barbara Castle would not be swayed, despite evidence that the trains were well-used between
Uckfield and Brighton and ironically it was the busiest section.
Pressure was exerted, whereby in an effort to deter patronage, BR withdrew most through services, necessitating a change of
trains at Lewes. To make matters even worse British Rail went on to declare that the iron viaduct carrying the line into Lewes
had suddenly become 'unsafe' and would require 'major expenditure'. They insisted it could only be used by a 2-car shuttle
train operating between Lewes and Barcombe Mills – the next station towards Uckfield – where passengers then had to change
trains towards London. Locals pointed out that the viaduct was perfectly fine for Her Majesty's Royal Train only a few months
earlier.
Richard Marsh, who succeeded Barbara Castle in 1968, made a prompt decision in consenting to the closure of the Lewes–
Uckfield section, whereupon Sussex's 'withered arm' would have to rely on a public subsidy. The last trains ran on 23rd
February 1969, enabling the victorious road-builders' bulldozers to finally break through and complete the first phase of the new
Relief Road. To cap it all, the hugely contentious stages 2 and 3, involving a deep cutting and dual carriageway through Lewes
town were abandoned that autumn. Sussex, Kent and Surrey lost a strategic rail connection and continue to reap the
consequences to this day. For its part, Lewes gained a very large flyover across the River Ouse and a road to nowhere.

The outcome has not been limited to just the lack of train services between Lewes and Uckfield. On that same day in 1969, all
main line services between Tunbridge Wells West and London Victoria were withdrawn, leaving only a local shuttle connection
between Eridge and Tonbridge. This too was subsequently removed in 1985, whilst the Uckfield line declined further during the
1980s and was eventually partially-singled.
Richard Marsh left government when Wilson was defeated in 1971 and became the Chairman of the British Railways Board
where he stayed until 1976 when he was knighted, becoming Baron Marsh in 1981 after joining the Conservatives in 1978.
Asked in 2003 whether he had any regrets over his decision, he responded: "Unfortunately I held the post of Minister of
Transport for only a few months between 1968 and 69, by far the shortest period of any post I have held since I started work 61
years ago! I would be surprised if the Uckfield-Lewis [sic] closure had not taken place earlier but after 33 years I am afraid I
really have no reliable recollection of the events of those few months."
The myth that this was merely a Beeching closure because it didn't pay endures to this day, but nothing could be further from
the truth, whilst the events of half a century ago were not confined to a corner of seemingly rural Sussex.
It remains one of the most contentious closures anywhere in the UK because railways, by their very nature, connect us together
and engender prosperity, business and well-being for the communities many miles apart. This single action resulted in the loss
of two main line routes – between London and Brighton/Lewes and between London and Tunbridge Wells (West). Both routes
are desperately needed and unquestionably this need can only increase in the years ahead.
With the closure of this section line which had a major impacted to the work allocated mainly at Brighton Mixed Traction and
Tunbridge Wells West. Other depots was also effected by the closure of this vital route to the London termini and Tonbridge. At
Brighton Mixed Traction it caused manning issues at these. Brighton Mixed Traction still retained worked down the Oxted line
to Uckfield, Tunbridge Wells West & East Grinstead.
PHOTOGRAPHER UNKNOWN

A Brighton to Tunbridge Wells West service at Lewes
PUT- BACK DRIVER OF A RESTRICTED DRIVER
AT BRIGHTON M.T.
The members of Brighton No.1 Branch of A.S.L.E.F., (Mixed Traction Depot) needed to seek clarification of a driver who was to become a stand "Put-Back" Driver, but there appeared to be some confusion as to his entitlement. The position is an explanation of his position.
Driver Joe Gray was involved in an accident whilst off duty in which he lost his right leg from above the knee joint. Owning to a similar accident involving a Redhill driver some time ago, the Medical Officer deemed that all men with artificial legs were not allowed to work traction with foot operated safety devices. In view of this Driver Joe Gray was given along with another Brighton Driver of similar disability a regular turn of duty on D.E.M.U.s. Upon the closure of the line from Uckfield to Lewes, all the D.E.M.U. duties work was withdrawn from Brighton Mixed Traction, and later a small number of D.E.M.U. duties were re-allocated, but none could be spared for these restricted men at Brighton. This coincided with the closure of Three Bridges Mixed Traction, Eastbourne Mixed Traction and Feltham depot. The other restricted man had an 8(b) (a pereference) move registered for West Worthing E.M.U.T. and was fortunate to get his job there. However Driver Gray was unable to fulfil his duties at Brighton owning to the traction restriction and was offered a job at Tunbridge Wells. This he declined owning to the travel difficulties involved i.e. the line closure. He therefore indicated that he was willing to stand "Put-Back" at Brighton in the hope that further D.E.M.U. duties would be allocated, or wait for rationalisation to take place at Brighton. The management will not say he is redundant, and we cannot establish his true position. The Brighton No.1 Branch felt that their member was a candidate for the application of clause 19 of the P.T. & R., but apparently Sectional Council "B" did not. Driver Gray was still classified as a driver, and his pay bill, but he was only receiving 340/-. Driver Gray was "Put-Back" with the introduction of the new service timetable which came into operation on July 1st, 1969.
It was point out to the General Secretary, that Driver Gray was not the "Junior Driver" at the depot, and according to ASLEF's circular 59, The Brighton No.1 Branch felt that he is entitled to be paid 379/-. Would you kindly clarify this man's position for the Branch, and perhaps explain why Clause 10 was not applied in his case.
ANDY GIBBS COLLECTION
Brighton Middle Road 25th January 1969
Drivers already standing "Put-Back"
With effect from August 25th, 1969, a Driver who standing "Put-Back" at his own depot rather than transfer to another depot will be paid 10/- less than the Driver's rate of pay, i.e. 369/- on present rates of pay.
Drivers "Put-Back" before the 25th August, 1969 and have elected to remain at their own depots shall be paid at 379/- per week on a personal basis. This rate will be effective from 12th August 1968.
APPROPRIATE RATE TO BE APPLIED TO A DRIVER-PUT-BACK
AS A RESULT OF REDUNDANCY
The Brighton No.1 Branch received correspondence back from ASLEF Head Office in connection with the above subject. Head Office have raised this matter with Sectional Council No.2 Southern Region, and set out below copy of the reply received from the Staff Side Secretary:-
"The fact as to the position of Driver Gray are as follows are as the Branch Secretary relates them in-so-much as he was declared redundant, though not the Junior Driver, because the L.D.C. informed us that there would not be no work available at the Depot because of Gray's disability, we tried to accommodate him at a Depot with the type of work consistant with Medical Officers ruling but as you were informed Gray declined this. We were of the opinion that the only course left open to us was to stand Gray "Put-Back" at Brighton M.T. Depot hoping that when rationalisation plans for the Area were complete we could then accommodate him on E.M.U.T. work at the proposed Brighton Depot.
To accommodate Gray under Clause 10 in the Brighton Area leads to problems of P.T.R. nature, there being registration for all Depots in the coastal area under either Clause 14 (a) or 8 (b) which as you are aware are prior Claused according to Clause 7. If Gray feels he would like to be reinstated as a Driver and have Clause 10 apply I feel that it may possible to find a position for but not in the Brighton area."
In conclusion I must say that Gray was created redundant because of loss work and according to the amplified arrangements he chose to stand "Put-Back" rather than move because there were no vacancies within a reasonable distance and of course there was a chance to stand "Put-Back" at his own Depot.
LOCOMOTIVE JOURNAL
NOVEMBER 1969
E.C. VICE PRESIDENT BILL RONKSLEY WRITES ON
THE TRAINMEN'S CONCEPT
The Trainmen's Concept was the subject of discussions during Stage 1 and Stage of the Pay and Efficiency Negotiations. In
this article I will explain what was proposed by the B.R.B. and why agreement was not possible.
THE PROPOSALS
The B.R.B. proposed the merging of the existing grades of Secondmen and Guards and the introduction of a new grade of
Trainman. It was the intention of the Board that Trainmen would perform the combined duties of Secondmen and Guards and
be in the Line of Promotion to Driver.
In their proposals the Board suggested that existing Secondmen would retain their date of entry into the Line of Promotion as
their seniority date for promotion to the grade of Driver and for determining their link position when in links composed of
duties which were previously those of Secondmen. When undertaking duties which were previously those of Guards it was
proposed that whilst existing Secondmen would retain their original seniority date for promotion to Driver their seniority date
for link working purposes would be the date of transfer to Guard's duties.
The Board proposed that existing Guards under the age of 40 years, subject to suitability, would be given the opportunity to
transfer to the Driver's Line of Promotion. Guards transferring under the aforementioned arrangement would have retained
their existing relative seniority date for redundancy in competition with other Guards and for link working purposes in links
composed of duties previously those of Guard. It was also proposed that the seniority date for promotion to the Grade of
Driver of existing Guards opting to enter the Line of Promotion to Driver would be the date of the introduction of the new
grade of Trainman.
Under the proposals Guard over the age of 40 years and those under the age of 40 years either unwilling or unsuitable to
transfer to the Driver's Line ofPromotion would have retained their right to seek promotion through their existing channels.
On the introduction of the new gras existing Secondmen and Guards would have retained their present link arrangements but
this arrangement would not have precluded the Trainmen who were previously Guards being called upon to perform existing
Secondmen's duties and Trainmen who were previously Secondmen performing existing Guard's duties as occasion
demanded.
In cases where economy would have accrued it was proposed that two former grades of Secondman and Guard may be
merged and the spare Secondmen and Guards placed in a common link or utilised on any duties covered by former grades.
Surplus Secondmen (redesignated as Trainmen) may have been called upon to fill vacancies in the existing grade of Guard at
their own or neighbouring depots on the understanding that their position in regard to the protection of earnings was
safeguarded.
The Board proposed that as vacancies arise the introduction of the grade of Trainman the appropriate job should be placed in a
new link or links which may have been a mixture of former Secondmen's or Guard's work placed above or below the "Spare"
link as agreed locally. It was further proposed that the seniority date for determining the position in the "Mixed" link should
be the date of entry into the link. Vacancies arising by secessions from the grade after the date of the agreement were, under
the proposals, to be used in the first place to accommodate surplus staff at the depot and then to be available to staff in the
grade at the depot who may have been desirous of transferring to the "New" integrated link. It was then proposed that
vacancies remaining after the operation of the procedure outlined above should be advertised to the section of staff which
would have been eligible to apply for the original vacancy (Secondman or Guard) under the arrangements in the operation
prior to the creation of the new grade, with the proviso that staff over 40 years of age not in the Driver's Line of Promotion
would be ineligibe.
The Board proposed that in the event of redundancy arising the staff should be dealt with under the redundancy arrangements
applicable to their former grades.
In their proposals the Board have proposed that the rates of pay of Senior Secondmen should be extended to all Trainmen after
10 years' service in the grade or after 15 years' service in the Line of Promotion and after 18 years' service in the grade or 21
years' service in the Line of Promotion.
THE TRADE UNIONS AND THE TRAINMEN'S CONCEPT
The N.U.R. has indicated that there is no basis of agreement on the proposals of the B.R.B during the P. & E. negotiations the
N.U.R. negotiations intimated that in their opinion Guards becoming Trainmen should be credited with certain amount of
seniority in the Line of Promotion to Driver. Our Society was unable to agree to this.
A.S.L.E.&F. is of the opinion that the proposals of the Board are a basis for negotiations. Of course, this does not mean that
the Society is prepared to agree to the whole of the proposals of the Board.
In my opinion agreement on the Trainmen's Concept would have:
1, Ensured the manning of the trains of the future by skilled craftsmen who would have progressed from Traction Trainee to
Trainmen and then from Trainman to Driver.
2, Enabled the B.R.B. to man train sensibly thereby avoiding unnecessary cancellations of trains.
3, Enabled the Trade Unions to negotiate higher rates of pay than those obtained in P.&E.
It is important to note that, even on the rates of pay negotiated in the P.&E. (Stage 2), had the Trainmen's Concept been agreed
some Guards on becoming Trainmen would have qualified for the rates of pay of Senior Secondman, meaning that they would
have had rates of pay 357/-, or 378/-, instead of 313/-. The Board has also hinted that they would be prepared to consider the
extension of Senior Secondmen's rates of pay to Guard who are too old (over 40 years) to become Trainmen in the Line of
Promotion to Driver.
THE FUTURE
The Executive Committee of our Society has examined the position arising from the failure to obtain agreement on the
Trainmen's Concept and has requested the B.R.B. for an early meeting to discuss and make agreement on the future
requirement and training of Footplate Staff.
Our member may rest assured that the Executive Committee are to give this matter their urgent attention.
MORE HARD TIMES AHEAD FOR
BRIGHTON No.1 BRANCH
December 1970
All through the 1960s Brighton Mixed Traction Depot
(has it had become known) was the hardest hit of the
two Brighton depots . This was due to the closure of the
railway lines between Shoreham to Christ Hospital and
Lewes to Uckfield.
There was also another serious matter that was going
to affect the depot and cause a threat to footplate jobs
at Brighton. The movement of traditionally loco hauled
working of parcel and mail trains. This form of traffic
was now going to be worked by Electric Multiple Unit
Trains, rather than being locomotive hauled.This
would result in another major loss of work to the
already hard hit Depot.
If the work had just been moved to another Mixed
Traction depot, then footplate men would have been
given the opportunity to follow the work, in accordance
with the Promotion Transfer and Redundancy
arrangements. This was not going to be the case with
the loss of this work. The Mixed Traction drivers where
not trained on this type of traction. The parcel and
mail work being transferred to the various E.M.UT.
Depots through out the South Central Division.
This caused so much concern and anger that a special Branch meeting was called for Sunday 6th December
1970. At this special Brighton No.1 Branch meeting,
the membership instructed their Branch Secretary to
write to the A.S.L.E.F. General Secretary (The contents
of this letter is opposite) with the view to try and to
intervene on what they considered to be a very serous
issue for the branch. The Special Branch meeting
called for the full rationalisation of all depots on the
South Central Division. This move would have brought
it in line with its neighbouring divisions of the South
Eastern and South Western.
It was veiwed by members of the Brighton No.1
Branch, that it was necessary to have full
Rationalisation of all mixed traction depots on the
Central Division, this would then allow all drivers to
be treated as equal. In a lot of cases the "Senior
Drivers" were now doing the work that was previously
reserved for the "Junior Drivers" and "Passed
Firemen" in the steam days. They believed that things
are now different, with the steam era now being gone,
and that footplatemen's conditions of service should
now be moved into the 1970s instead of still lagging
behind in the steam era of the 1800s.
A response from Southern Region Sectional Council
'B', stating that they would be having a meeting with
the Brighton Mixed Traction L.D.C. in the New Year to
discuss this issue.
But it would be it would not be until 1988, before
rationalisation would take place at Brighton Mixed
Traction. Two of the three other mixed traction depots
(Victoria M.T. & Redhill M.T.) had already
rationalised prior to this, and Norwood M.T. received
E.M.U. work in line with the electrification of the East
Grinstead line..
A special meeting called for Sunday 6th December 1970s. I was instructed to write you on the subject matter of the meeting.
The subject of the meeting was regarding management's plans to transfer parcel train traffic now worked by mixed traction as loco hauled trains, into E.M.U. stock. This plan will ultimately lead to a loss of work to mixed traction. We are very concerned about this. We at Brighton have lost a lot of work over past years due to the Steyning line closure, reorganisation of freight traffic, closure of the Uckfield Lewes section. As mixed traction men we have always regarded Parcel and Van trains as our work. The E.M.U. men being solely concerned with running the passenger traffic. We feel we are being regarded as restricted men in that we are not allowed to work on E.M.U. stock. It is not that we wish to filter E.M.U. work into our parlour but to retain the work now performed by us. The deletion of clauses 22-26 is still very much a sore point with us as it means that a fair number of men were deprived of their rightful promotion and now are unable to safeguard their jobs by moving with the work. This we can do nothing about now, but we strongly feel that instead of moving work away from mixed traction all drivers should be treated equally. We wish to remind you that as union members and fully trained and experienced men we are entitled to a fair share of the work of operating trains in our division.
We strongly urge you to press management to institute full rationalisation on the Central Division immediately. We are the smallest and probably the busiest division yet the other divisions enjoy the position of all drivers being equal.
Another matter arising from this situation is the ability of the men to partake in the Bonus Schemes. We don't like them but it is in effect part of available wages. If we lose parcel train work we are also loosing bonus as it is virtually our only opportunity to cover any reasonable distance. We fear that at some later date Brute Traffic will be transferred to E.M.U. stock. When that happens we shall have virtually nothing.
We look to you to after our interests as union members fully capable men and in many cases Senior men. This situation makes our valuable seniority look silly.
Will you please give this matter you urgent attention.
Yours Fraternally
Branch Secretary
A. Hardiman
THE HISTORY OF THE CLOSED SHOP ARRANGEMENTS
LOCOMOTIVE JOURNAL
OCOTOBER 1913
EDITOR'S NOTES
THE "CLOSED SHOP"
Much is being said and written in regard to the virtues or otherwise of the principle of the "close shop" in industry. We think it right to say that, in a general way at least, most of those who are Trade Unionist by conviction would prefer to see men voluntarily joining unions rather than being compelled to do so by the conditions attaching to their place of work.
Unfortunately, however, there are still those who will trade on the activities of their colleagues and who will decline either to
meet the necessary cost of running trade unions and providing benefits, or to lend moral support by acquiring membership of
their appropriate union. This the real Trade Unionist is entitled to expect. The necessity for exerting pressure upon certain
individuals to become members of Trade Unions thus becomes apparent from time to time.
We believe that a only be effectively operated if the conditions imposed are that the work people shall be requested to join
their appropriate Trade Unions. These must be unions affiliated to the Trades Union Congress and catering for the particular
type of worker concerned. In so far as the railways are concerned, this would mean that all drivers, motormen, firemen and
cleaners should join the A.S.L.E.F., and if those who desire to see the "closed shop" within the railway service are prepared to
accept this, they will find no opposition from the headquarters of the A.S.L.E. & F. Indeed, we should welcome a statement of
this description. In the absence of any such undertaking, the creation of an effective "closed shop" is very doubtful of success.
We commend this suggestion to all those who are seriously interested in the "closed shop" principle.
BRITISH RAIL AND THE CLOSED SHOP.
by Steve Richards
Steve was Personnel Manager on the Central Division of the Southern Region,
and the Management Chairman of Sectional Council "B"
Hopefully this will give some indication of the 'confusion' which surrounded this subject in the early 70's.
The first reference relates to a question of BR's Closed Shop being 'in existence', and was raised in Parliament by Christopher
Woodhouse, MP for Oxford, in relation to one of his constituents. On 21st April 1971 Woodhouse raised the matter of a
Western Region Clerical Officer who had been dismissed as he refused to join TSSA. The thing to note here was that the
'dismissed' employee commenced employment in September 1964 so clearly no agreement existed at that time.
Hansard states that:
The agreement which led to dismissal was not easy to track down. It was apparently negotiated between 1966 and 1969 and it
came into effect at the beginning of 1970. I have been able to find only two contemporary references to the agreement in the
National Press. They came on 25th & 26th August, 1969, and both references were incomplete. But in the second reference, on
26th August, it was clearly indicated … that Trade Union membership would not be made compulsory for those already
employed by British Rail, though it would become a Condition of Employment
Woodhouse stated that he, '… eventually found a copy of the agreement published in the Railway Review of 29th August,
1969, and it was clear that the agreement was 'far-reaching' and comprehensive. In the Railway Review, it was described as
Stage 2 of a massive examination of Rates of Pay and Conditions of Service under the Railway Pay and Efficiency talks. The
provision for compulsory trade union membership was only one item in a very extensive agreement, but it was a vitally
important item and, as I have said, it was not published in the National Press.'

He continued that '… two quotations are given from the agreement, the first is that BRB / Trade Unions accept that
membership of a Trade Union, party to the Machinery of Negotiation, is in the best interests of employer / employee
relationship. With the principle there asserted I wholeheartedly agree. I have often publicly said that any large industrial
employer would be wise to encourage 100 per cent. trade union membership. I have even been attacked in a Trade Union
Journal for saying that, on the simple dogmatic ground that a Tory could not possibly mean it. I do mean it, but I emphasise
the word encourage, and not compel'.

The second quotation from the agreement is as follows: 'It is therefore agreed that membership of one of the Trade Unions
party to the Machinery of Negotiation shall be a Condition of Employment effective from 1st January 1970.

Being a 'sad bugger', I have dug all my Stage II P&E booklets out of the loft and on Page 2 or 3 of the relevant Footplate,
and other, booklets it is clear the closed shop was 'agreed' on 9th September 1969 with a proposed implementation date of 1st
January 1970. Whether this was actually implemented for existing employees is not clear; due to the fact that BRB were
having to take cognisance of the impending implementation of the Industrial Relations Act 1971, which although in draft form
was effectively saying Closed Shops should be illegal.
This was not the end of the saga however, as there was later a case raised in the European Court of Human Rights during
1976 - it was not heard until August 1981. This was the case of Young, James & Webster vs. United Kingdom and referred to
the dismissal of three BR employees, as they would not join a Trade Union. The 'facts were shown to be as follows:

II. BRITISH RAIL AND ITS CLOSED SHOP AGREEMENT
In 1970, British Rail had concluded a closed shop agreement with the NUR, the TSSA and ASLEF, but, with the enactment of
the Industrial Relations Act 1971 it was not put into effect.
The matter was, however, revived in July 1975 when British Rail concluded a further agreement with the same unions. It was
provided that as from 1 August 1975 membership of one of those unions was to be a condition of employment for certain
categories of staff - including the applicants - and that the terms of the agreement were "incorporated in and form[ed] part
of" each contract of employment. Like other staff of BR, Mr. the three dismissed employees had, it appears, been supplied
when engaged with a written statement containing a provision to the effect that they were subject to such Terms & Conditions
of Employment as might from time to time be settled for employees of their category under the Machinery of Negotiation
established between their employer and any trade union or other organisation.
The membership requirement did not apply to "an existing employee who genuinely objects on grounds of religious belief to
being a member of any Trade Union whatsoever or on any reasonable grounds to being a member of a particular Trade
Union". The agreement also set out the procedure for applying for exemption on these grounds and provided for applications
to be heard by representatives of the employer and the unions.
It appears that, prior to the conclusion of the 1975 Closed Shop Agreement, between 6,000 and 8,000 BR employees, out of a
total staff of 250,000, were not already members of one of the specified unions. In the final event, 54 individuals were
dismissed for refusal to comply with the membership requirement.
So according to the Courts, the first 'official' BR Closed Shop came into being on 1st August 1975; however, whilst this date is
shown on Page 10 of the 1982 'Black' ASLEF Handbook, I believe it was the case that from January 1970 in some places
within the industry the Closed Shop was in operation. For example, I joined BR on 7th September 1970 and was quickly told I
had to sign an Application Form to join either NUR or TSSA - I joined the latter! From then on, I was given my Contract of
Employment and other documents".